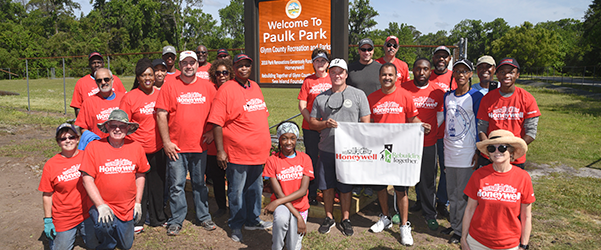 Community/Information
Community News
---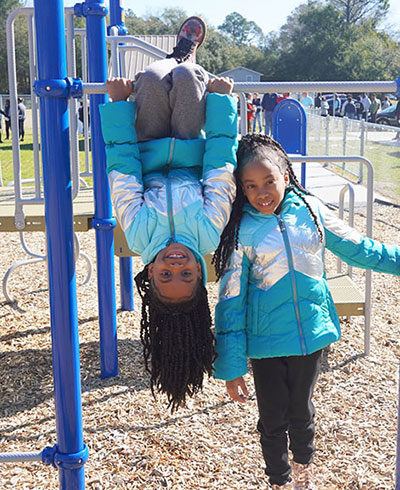 New Soccer Field Kicks Off in Time for Spring Matches
What began as a field of dreams two years ago has become the heart of the Arco neighborhood in Brunswick, Ga. A vacant ballfield on Wylly Avenue was rebuilt as a soccer field for community champions, complete with a playground for the smaller set, like sisters Imani and Eden, seen on the left enjoying the playground equipment.
Thanks to a partnership among Honeywell, Coastal Outreach Soccer (COS), Rebuilding Together, Glynn County and the city of Brunswick, the newly renovated Paulk Field was officially opened Feb. 29 with afternoon matches by COS players from ages four to 18.
As Prashant Gupta, Honeywell Remediation Project Manager, noted when the commemorative ribbon was cut, "Honeywell is honored to have helped bring this field to life."
The COS program is a coordinated effort involving the Glynn County School System, the Brunswick Recreation Department and local certified coaches. COS teams play at a competitive level against clubs with far more resources and larger player pools. Educational mentoring, which is a core ingredient of the program, has helped COS players stay on track academically and enabled a number of players to earn full athletic scholarships upon graduation.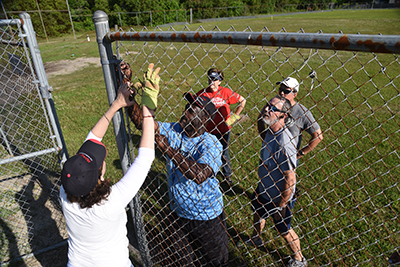 Helping Hands Make Light Work - Even When You're Pulling Down FencesWhen you get hard-working volunteers from across Glynn County to show up for some sweltering work at a vacant ballfield, you produce results!
The property owned by the city of Brunswick was readied for use as a playing field for Coastal Outreach Soccer, a soccer and after school program for middle and high school students. Members of the team joined Honeywell, Rebuilding Together of Glynn County, City of Brunswick and Glynn County for the first Paulk Field volunteer day.
Honeywell Supports Rebuilding Together Glynn County. Honeywell volunteers, working in partnership with people from the community and local government, helped prepare a former fire station for its new life as the local headquarters of the recently formed Rebuilding Together Glynn County in coastal Brunswick, Georgia.
External Links
---
Drone Footage:
https://vimeo.com/181830145
Honeywell website:
http://www.honeywell.com
Georgia EPD:
http://epd.georgia.gov/
EPA reading room:
http://www2.epa.gov/foia/region-4-virtual-reading-room-lcp-chemicals-site-brunswick-ga
Georgia Department of Natural Resources:
http://www.gadnr.org
Natural Resource Damages:
http://www.epa.gov/superfund/programs/nrd/