History
For 75 years, the industrial facility on the Brunswick, Georgia waterfront was a vital part of Glynn County's economy, hosting a variety of manufacturing operations by different owners. Environmental investigation and cleanup work began in 1994, when the property was designated as a Superfund site under the Comprehensive Environmental Response, Compensation, and Liability Act (CERCLA), commonly known as Superfund. The site comprises approximately 681 acres of tidal marshlands and 88 acres of uplands.
LCP Brunswick History of Operations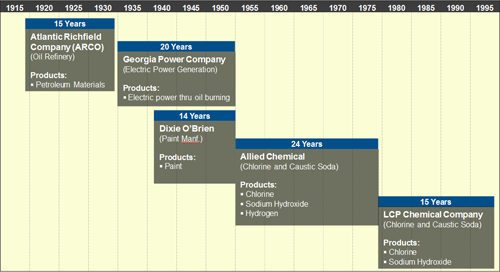 Old Refinery, 1921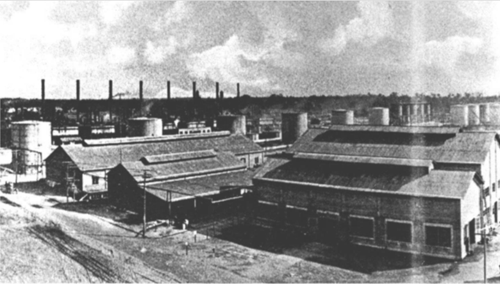 The potentially responsible parties (PRPs) that have entered into an order with the U.S. Environmental Protection Agency (EPA) for cleanup at this site are Honeywell International Inc., the Atlantic Richfield Company (a subsidiary of BP) and Georgia Power.
Arco, a successor of the Atlantic Refining Company, constructed and operated an oil refinery between 1918 to the early 1930s; it also built associated structures for employee support and housing. Arco sold some parcels of its property between 1937 and 1955.
Georgia Power purchased portions of the site in 1937, 1942, and 1950. These purchases included two parcels of land and two 750 kilowatt ("kW") electric generators from Arco. Georgia Power subsequently added an additional 4.0 megawatts of electric generation capacity at the site, increasing power generation capacity to 5500 kW by 1941. Bunker C oil was used as the fuel source for the power plant.
The Dixie Paint and Varnish Company operated a paint and varnish manufacturing facility from 1941 to 1955 at a parcel south of the Georgia Power land. Later it became the Dixie O'Brien Corporation -- a wholly owned subsidiary of the O'Brien Corporation.
From 1955 to 1979, Allied Chemical and Dye Corporation (now Honeywell) built and operated a chlor-alkali facility on the site for the production of chlorine gas, hydrogen gas, and caustic solution. LCP Chemicals purchased the property and chlor-alkali plant in 1979 and also produced hydrochloric acid. LCP declared bankruptcy in 1991. After the plant was closed in 1994, EPA issued a removal action order for the cleanup and designated the property as a Superfund site under CERCLA.
Honeywell acquired the property in 1998 from the U.S. Bankruptcy Court.
Chronology
Industrial use dates back to early 1900s:

ARCO (1919 to 1935)
Georgia Power (1935 to 1955)
Dixie Paint (1941 to 1955)
Allied Chemical (1955 - 1979)
LCP Chemicals (1979 - 1994)